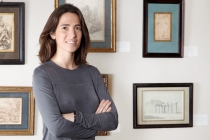 Nathalie Motte Masselink


Nathalie Motte Masselink is the owner and director of the gallery. Nathalie studied Art History at the Ecole du Louvre and the Sorbonne, specializing in old master European paintings and drawings. After dealing art privately for five years, she opened her gallery at 12 rue Jacob, in Paris' left bank in October 2010 in order to share her passion for art and her discoveries with a larger public.

The opening of the gallery on rue Jacob enabled Nathalie to add her ongoing interest in contemporary art to her activities as an art dealer. She selects and exhibits contemporary artists' work that explores today's world while acknowledging our rich artistic heritage.

Since March 2014, the gallery participates at the Salon du Dessin held annually at the Palais Brongniart in Paris.

The gallery counts among its clients many private collectors and prestigious public institutions such as the Musee du Louvre and the Museum of the Petit Palais, both in Paris; the Metropolitan Museum of Art, New York; and the National Gallery of Art, Washington D.C.